The Most #WithIt People I Know Are Nursing Home Residents
By Fern Marder, DMCA

In 2017, the leaders of Parker Health Group, a non-profit long-term care and aging services provider in New Jersey felt it was time to do something about ageism in society and we began a movement we called #WithIt. Working in aging services has made us more aware of the increase of incidents of ageism in society and in the media. Our goal is to inspire other companies, organizations, and individuals to join the movement and co-create it together. Our message is not a negative one; to combat ageism we share examples of people of all ages living their best lives possible, including highlighting individuals who are not in the best physical shape, some of whom live in long-term care yet still have a desire to learn, share their knowledge, spread joy, and contribute to society. Posts on our social media accounts have been shared by many, including influencers who are combatting ageism in their own ways. I have travelled the country to share the #WithIt message, and I've met many people who are most definitely #WithIt, yet the most #WithIt people I know are a group of Elders who live in one of Parker's nursing homes.
Elders Seeking A Purpose
Erica Rattray-St. Jean was employed for only a few weeks as a social worker for Parker at Somerset when she attended her first resident council meeting and was approached by a group of Elders who told her that they feel as if there is no purpose to their lives. Erica explained, "They felt like they were not contributing to society but want to be helpful in some way to others, through purposeful and constructive actions."
Erica spent considerable time thinking about how to bring purposeful living to these residents and came up with one solution that could work. When she pitched the idea of a volunteer club to those residents, they unanimously voted yes, and the Living With A Purpose Club was born, with a charter membership of 12 Elders.
Erica has been closely aligned with the club noticed that Elders who were interested in joining the club shared similar personality traits. These Elders believe it is their duty to serve. They crave being of value to others and want to feel a sense of accomplishment. Members frequently raise ideas on how to support not only charities but other residents.
Their Contributions to Society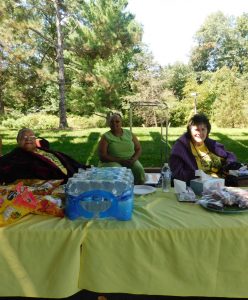 It has been five years since the Elders of the LWAPC held their first meeting. Since then they raised $5000 in cash, $1000 in gift cards as well as donations of food and holiday presents; they donated sporting goods, clothing and school supplies to children and young adults. They also sponsored performances and collaborated with other charitable causes. There is a long list of charities that have benefitted from their efforts: the Alzheimer's Association, the Living Water Children's Centre Fund, the Caribbean Medical Mission, Samaritan's Purse, Camp No Limits, UNICEF, St. Jude's Children's Hospital, Elijah's Promise, and the Center for Great Expectations.
As you can see, the members of the Living With A Purpose Club has made a difference in our society, and their purposeful living has benefitted each member too. According to Ms. Rattray-St. Jean, "It has reignited their sense of self-worth. It's like they were waiting for permission to be imaginative. They feel empowered, offer suggestions, participate and think outside the box." As a result of joining the LWAPC, the members also enjoyed making new friendships and creating memories together. LWACP members reported that the club lifts their spirits and has enhanced their quality of life. The club is an effective antidote to Eden Alternative's concept of the "three plagues" of loneliness, helplessness and boredom—all states of being that account for the bulk of suffering among Elders.
How to Start Your Own Living With A Purpose Club
In November 2019, Erica Rattray-St. Jean gave a presentation to attendees of the New Jersey Alliance for Culture Change Connect Forum at Rutgers University about the LWAPC. Three members of the club were in attendance and answered questions after the presentation. Erica described how the club began and shared some tips for attendees, most of whom work in health care, to start their own clubs at their long-term care communities.
Discuss your idea with your home administrator and ask for some "seed money" to get you started. The first fundraising event for LWAPC was a 50/50 drawing – and the only expense was the raffle tickets.
Ask Elders who have expressed a sense of uselessness and desire to live purposefully to join the club.
Create a mission, goals, members' code of ethics and operating protocols.
Determine the meeting times, frequency of meetings, and location.
Assign members roles such as co-leaders, treasurer, scribe/secretary.
Assist club members in defining the program by voting for the types of projects and possible charitable recipients of the proceeds. The LWAPC sells plants, holiday candles, and terrariums, that they create themselves with some assistance. The club held a car wash with assistance from Parker staff, collected canned foods for a food pantry, made bracelets to sell, and held bake sales.
Keep in mind that every member of the club has something valuable to offer and their ideas are equally important.
Be mindful that assigning responsibilities can be challenging; some members are well intentioned but are not capable of handling certain assignments without assistance.
#WithIt Nursing Home Residents
I visited Erica and the members of LWAPC in the fall of last year and spent time with them while they were creating potted plants as Thanksgiving gifts. Cinnamon sticks were added to the dirt of each plant to give it the homey, holiday scent of baked goods. The pots were draped with decorative holiday napkins, held in place by a burlap strip. At the cost of $30, the pots make a nice holiday gift, with the proceeds going to St. Jude's Children's Hospital.
"It's done from your heart when you do crafts for charity," remarked an active member of the LWACP. "No two look alike. Your personality is in it."
Another member of the club remarked," Some people can't use arms, legs, or think clearly all the time—but, together, we can get everything done."
A third confessed, "Before the club, time moved slower – it was more like kindergarten. Now our time is purposeful. Erica helps us come up with new ideas."
I could not help but be impressed by this altruistic group of Elders who help each other while planning, creating, and raising funds for charities around the world. They are living their best lives possible, helping each other achieve their club's goal other helping others—all this while enjoying each other's company, expressing their creativity and making new memories together. They are the most #WithIt people that I have ever met.